LEGO released 4 limited edition Star Wars mini ships in 2012 and 2013. It comes with a minifigure that can ride on the ship.
2012 LEGO Star Wars Limited Edition Mini Ships
Star Wars Celebration VI Boba Fett's Mini Slave I
2013 LEGO Star Wars Limited Edition Mini Ships
These have proven to be very popular and have been released for the public under a new Microfighters theme. This theme replaces the Star Wars Planets sets.
There are 6 models released under the first series of the Microfighters.
2014 LEGO Star Wars Microfighters Series 1 Mini Ships
75028 Clone Turbo Tank
75029 AAT
75030 Millennium Falcon
75031 TIE Interceptor
75032 X-Wing Fighter
75033 Star Destroyer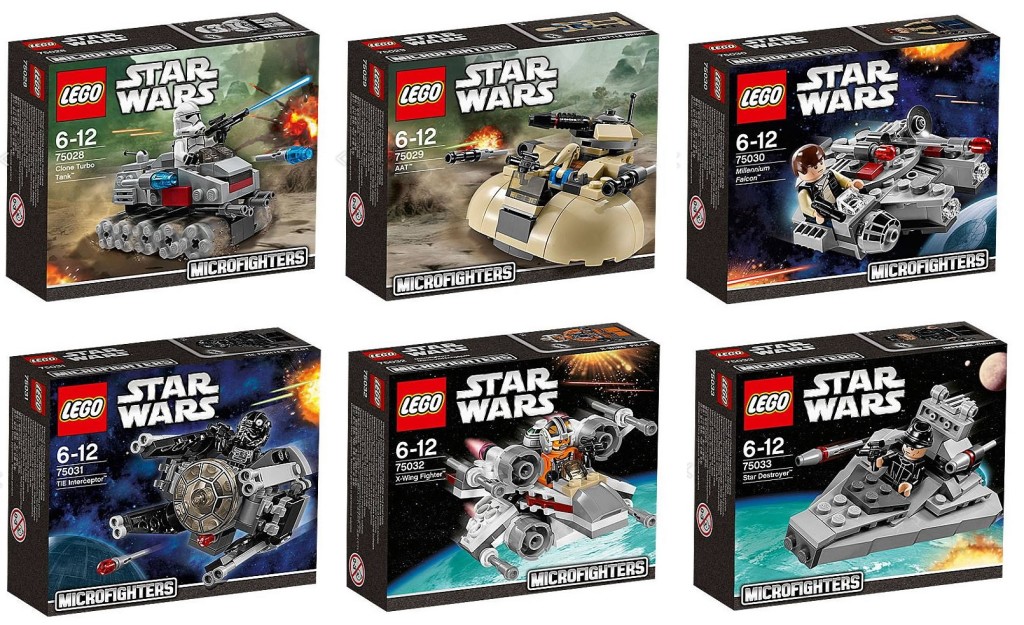 In my opinion and also based on the number of sets left on the shelves at toy stores, the most popular of the series are the Millennium Falcon 75030 and X-Wing Fighter 75032. Visited the stores a few times but it was always sold out.
Next is probably the TIE Interceptor 75031 followed by the Clone Turbo Tank 75028 and Star Destroyer 75033. The least popular of them is the AAT 75029 with a Droid minifigure with plenty left on the shelf.
The Microfighters sets are definitely better than the Planets sets. In both series, you get a minifigure and a ship. But the mini ships for the Planets are very small and meant more for display. The planet that comes with the set is also quite useless for anything else other than perhaps decoration for creating a Star Wars theme Christmas tree.
With the Microfighters, you get more parts to build a larger mini ship where kids can swoosh around. It also makes a great piece for older kids to display on a desk or shelf.
Year Released: 2014
Discontinued:
Minifigures: 1
Pieces: 92 to 97
Retail Price: $9.99