The latest in the series of Architecture theme sets from LEGO is the Architecture Studio 21050.
In the past, the sets were of famous buildings and landmarks such as Fallingwater 21005 by Frank Lloyd Wright or The Leaning Tower of Pisa 21015. These sets were generally small scale and could fit nicely on a desk or display cabinet.
The Architecture series sets came in a predominately black colour box of better quality than the usual LEGO sets.
The box is reusable and once you flip open it, there were the bricks in clear bags and an instruction booklet with better quality printing and paper. Inside the booklet is packed full of information and explanations about the actual building as you build the LEGO model.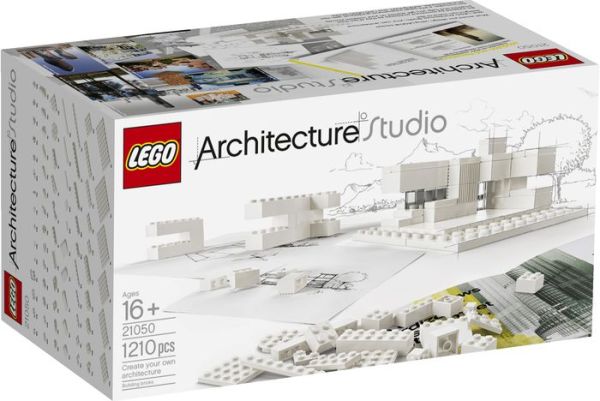 Architecture Studio 21050 is different in many ways. First off, the box is predominately white. As the name suggests, there is no official model to be completed.
What you get in the white box is lots and lots of white bricks and pieces. There is also a massive book that details ideas and references various types of architecture.
The set is generally targeted for older children or adults with an interest in architecture. In fact, the set has been endorsed by world famous architects such as REX architecture, Sou Fujimoto Architects, SOM, MAD Architects, Tham & Videgård Arkitekter and Safdie Architects.
The Architecture Studio 21050 is not the first foray into using LEGO bricks for architecture by the LEGO group. They had a line called Modulex in the 1960's for professionals.
Architects generally use white card paper to create models to test out massing and form. However, it can take some time and also lots of paper cuts to fingers. Nowadays, things have gone digital using computers to generate 3D models.
The idea of using LEGO to build quick massing models that can be easily taken apart or modified is cool. There is a direct connect between the idea in the mind, sight and touch to create the design quickly compared to fiddling with a mouse and keyboard to slowly build a 3D model with a computer.
Faster than a computer but without paper cuts, bringing ideas into reality in an instant. I'm sold on this set.
But if you really wanted to use LEGO bricks as a medium to experiment with architectural design, you could buy basic bricks in bulk via sets like Basic Bricks Deluxe 6177 or LEGO Creative Tower 10664 with a lower price per brick. But of course your model would not look as professional with lots of different bright colours.
The reason for white card models is to start with crafting the form of the building without the eye getting distracted with colours. Shadows, depth and form can also be easily seen and differentiated with a white model too.
All in all, the set with a retail price of $149.99 makes the 1210 pieces cost an average of slightly over 12 cents each. That's not too expensive considering you get a very thick book with many interesting information and photos.
Year Released: 2013
Year Discontinued: Out of stock at LEGO.com since February 2014)
Minifigures: 0
Pieces: 1210
Retail Price: $149.99