The LEGO Group released a line of building sets that targeted adults more than children in 2007. It was the Modular Buildings theme.
The first set released was the Cafe Corner 10182 followed by Green Grocer 10185. There was also a set called the Market Street 10190 designed by a LEGO fan. This set was released under the LEGO Factory branding. These sets were available for a production run of approximately two years.
As usual, I was late to the party and missed getting the sets while still in production. The next few sets to be released was the Fire Brigade 10197, Grand Emporium 10211 and Petshop 10218. The Petshop 10218 was newly released when I came across the Modular Buildings.
Among the available Modular Buildings still in production, the set that was the most intriguing was the Grand Emporium. It was a nice corner building with two facades facing the street. The building looks grand and impressive and brings back memories of an old world charm. Actually it reminds me of some of the MYER department stores in Melbourne or Launceston and Hobart in Tasmania.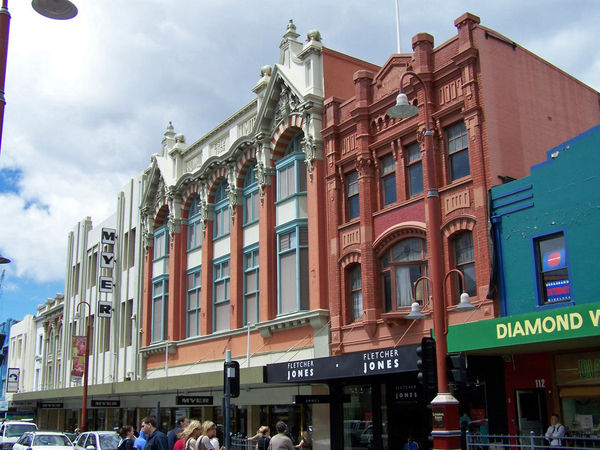 Here's a picture of the old MYER store before it was burnt down in 2007. A new modern looking building has since replaced it.
There are 7 minifigures in this set and the detail of the building is outstanding. On the outside of the 3 storey building, there are many pieces used to create the detail of the facade. There's a billboard on the roof and even a gondola with a minifigure cleaning the windows.
Once inside the building through the revolving doors, there is an escalator bringing minifigures through the different departments. Clothing on the ground, followed by household and finally the toy department at the top floor. Well this LEGO set is still a toy so there's no lingerie section. Besides the many accessories within the building to recreate an actual store, there is also a chandelier hanging at the atrium.
When compared to the earlier first release of the Cafe Corner 10182, it's a vast improvement as the Cafe Corner was empty on the inside. The Fire Brigade 10197 although is detailed and comes with a fire truck, it seems more suited for kids to play and not as impressive to display in your study. The Petshop 10218 would make a great set as a bookend as it's the only set that comprises two buildings. But it does not have the same kind of wow factor as compared to the Grand Emporium 10211.
Although there has been more Modular Buildings released like the Town Hall 10224 and Palace Cinema 10232, the Grand Emporium still remains a favorite.
Year Released: 2010
Minifigures: 7
Pieces: 2182
Retail Price: $149.99