LEGO.com frequently gives away polybags with purchases above a certain amount.
For their promotion in September 2013, if you buy more than $75 of LEGO, you get this amazing VW T1 Camper Van 40079 free.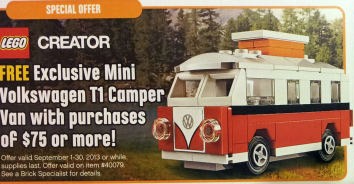 It's a smaller version of the 1:17 scale Volkswagen T1 Camper Van 10220. It will make a great display next to the larger version.
For those who don't have the space for the larger VW T1 Camper Van 10220 or budget, this will be a great polybag to obtain. I think this free polybag is gorgeous and will fit in your LEGO city or Modular Buildings.
This is a good time to buy one of the Modular Buildings sets around the range of $150 such as the Pet Shop 10218 or Palace Cinema 10232.
For a slightly lower budget, there is the LEGO City Town Square 60026 at $120. You get a red bus, yellow mobile crane and green road sweeper. For buildings, there is a pizza place and bike shop. Great setup for the LEGO minifigs to cruise around town in the free VW T1 Camper Van 40079.
If you can't get your hands on this cute model, check out the instructions here to build your own from existing LEGO parts in your collection.
Year Released: 2013
Minifigures: 0
Pieces: 76
Retail Price: Free with purchases above $75 from LEGO.com